A few months back my dear friend Mary approached me with ideas for a tie blanket ministry. Mary said God had laid this on her heart for almost a year and now He was impressing on her to move forward. As a result of many discussions and a whole lot of prayer
'Fleece for the Flock'
was born.
Since early this summer Mary, myself and a troop of people loving God honoring folks have set heart to hands tying blanket, wraps and scarves for folks of all ages. At the heart of
Fleece for the Flock's
mission is a desire to be the hands, feet and loving arms of Christ as we are called to do in 1Peter 5:2-3
"Be shepherds of God's flock that is under your care, serving as overseers—not because you must, but because you are willing, as God wants you to be; not greedy for money, but eager to serve; not lording it over those entrusted to you, but being examples to the flock."
Currently
Fleece for the Flock
is seeking to complete 500 fleece blankets to send to McDowell County, West Virginia by Christmas. McDowell is one of the poorest counties in the United States. Please watch the video below for more about the area and the folks who live there. Please consider how you might be able to help.
I encourage everyone who would, to please copy and paste
this button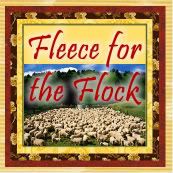 on your blog or website and point those in your neighborhood to help with this worthy cause.
as ever,